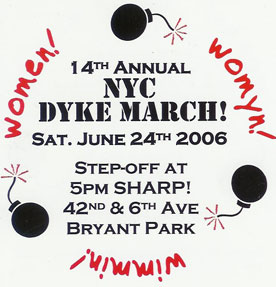 Maybe not.
While at Brooklyn Pride this year, I was handed a postcard for this year's NYC Dyke March. In bold, red letters, the postcard proclaims: "Women! Womyn! Wimmin!" and, below, says "This march is for women only. Allies should cheer us from the sidelines."
The postcard left me wondering where I belonged – in the march, as I've been every year since moving to NYC in 2002, or on the sidelines.
Last year, there was something of a campaign at the Dyke March. People handed out stickers that said, "A Dyke March for All Dykes." These folks were primarily calling for the inclusion of dyke-identified trans men in the Dyke March.
Something about this protest rubbed me the wrong way. I think it had a lot to do with the people who were most visibly involved – mostly white, mostly thin, mostly "good looking" by typical standards trannyboys who seem to occupy a particular scene in NYC – the scene in which (certain) trans guys are omgsohott!!! In my limited interaction with this scene, I've felt a lot of entitlement and a certain amount of privilege, namely racial and male, (though I'm quick to acknowledge that the male privilege that a trans man may possess is thoroughly complicated by the lack of privilege that comes with being trans.) The crowd that seemed to be calling most loudly for trans male inclusion in the Dyke March, and the particular way in which they went about it, did not make me so sympathetic to the cause, despite my understanding of and, in large part, agreement with their points.
There was a pretty big debate last year with (and within) the Dyke March Planning Committee over whether the march should be explicitly women-only, or whether it should be opened to dykes of many genders, including dyke-identified trans men and genderqueers. The portions of the debate that I witnessed were thoroughly upsetting; there was a whole lot of transphobia lacing the entire thing, and a whole lot of wilful ignorance and reductionism around people's gender. I myself went to the beginning of a Dyke March planning meeting and spoke to some of the organizers. One particularly prevalent message that I heard was that genderqueers, and maybe even trans men, could attend the March as long as they came to it identifying with and embracing whatever part of them was still "woman."
This notion – that, deep down inside, all trans men and genderqueers still have a "woman" side – really pisses me off. It is completely invalidating of many people's gender identities, and is an attempt to reinforce a gender binary that dictates that, when you get down to it, everyone is really either a woman or a man as determined by whatever gender they were assigned at birth. Some trans men and genderqueers who were female-assigned at birth might embrace or acknowledge a female or woman side of themselves, which is a completely valid and wonderful individual choice. (Though, actually, who am I or anyone else to say whether someone else's understanding of their gender is valid or not?) However, that choice cannot and should not be forced upon all trans men or genderqueers. And when the organizers of the Dyke March or any other space say that, somehow, they're welcoming trans men and genderqueers when they say "women only," that's exactly what they're doing – stripping people of their right to gender self-identification and pushing them into one of two predefined boxes.
As far as I understand it, one of the primary motivations behind the Dyke March has always been visibility – the visibility of dykes and other queer women within a larger queer movement that has often completely ignored them or pushed their needs and issues to the side. Therefore, it makes me profoundly sad that the Dyke March is making increasingly invisible those people who have long been part of the lesbian/dyke/queer women's communities, but do not, perhaps, fully or even remotely identify as "women."
I, myself, am included among that number. When people ask me my gender in a free-form manner, I always respond with "genderqueer butch." That's my gender, to a T. It fits me better than any other gender label that I've come across. The term "woman" is so loaded down with so much cultural and societal connotation that I'm not really all that comfortable with it, under most circumstances.
Somehow, "woman of color" is different. It doesn't bother me nearly as much, it's something I can identify with much more easily and it's an identity that I embrace. A lot of that is about kinship, about shared experience, and about solidarity. It's far easier for me to be proud of being a woman of color, to be comfortable being a woman of color, than it is for me to be comfortable just being labeled as a woman.
And it's not as if I don't identify with the label "women" at all. I do. I function in this binary gender world primarily as a woman. I am denied privilege and discriminated against as a woman; I receive privilege as a non-trans woman. I am seen by most as a woman who doesn't act like a woman should, but a woman nonetheless. And, when pressed, when given the choice between two options, man or woman, I will (at this point in my life, at least) invariably choose woman.
That's the thing, though – I don't like having to choose between two boxes and squeeze myself in, however bad the fit may be. I am perfectly content identifying as a genderqueer butch, full stop. I don't feel that I need to tack "woman" onto that to preserve my connection to women's struggles, to women's cultures, to women's communities. I don't feel the need to do so in order to share the kinship and community that I do with other women of color. And I certainly don't think that I need to call myself a woman in order to prove my allegience to women or to feminism.
It sucks that I'm so often forced to choose between the two, or that the choice is made for me when people make assumptions based on how I look or sound. It's something that I deal with almost constantly – any time I meet someone new, speak to someone on the phone, or am forced to choose a gendered title like Ms or Mrs or Mr; any time that I walk into a public restroom and get the double-takes, the questioning, and eventual approval after I reluctantly say "Yes, I'm a woman;" any time someone calls my office asking for me after only reading my name in an email or on a website and I hear those few moments of confusion before they decide, "Oh, this must be a woman named Jack." However, I'm fairly used to all of that. I expect it from mainstream society, and those low expectations make it a little easier to deal with.
But it's a whole other story when it's communities that I expect more from, like queer communities. To be pushed into boxes by people who struggle against being shoved into boxes of their own, to be made to feel invisible and disrespected by people who know what it feels like to have to fight to be seen and respected for who one truly is – that's a special kind of hurt right there.
So, will I march this year, or not? I don't know. I sure as hell won't be cheering from the sidelines like I'm apparently supposed to. I'm either in it or I'm not. I know that the Dyke March isn't really about the policies that some small, select group of women come up with; it's about the collective power and often disparate voices of all of the people who show up to march. I know that it's not likely that anyone will try to enforce this policy, and I know that, even if they did, I'd be lucky enough, in a way, to be read as a woman and let be. But I don't know if I'd be able to really have fun and enjoy myself without having that queasy feeling that comes when you're forced to pass for something that you're not.
If I do march, I think I might make a sign to carry. I'm thinking it'll be a list of labels with checkboxes next to them – woman, womyn, wimmin, genderqueer butch. The checkboxes next to the first three will have a big red "x" through them; the checkbox next to the last will have a big green check through it. And then the sign will say, "Am I still welcome here? If I am, then say it!"
*****
I'm writing about my own experience as a not-exactly-woman-identified person, but I'd also like to point out that many people who very happily identify as women are not truly welcomed or included in many women's and dyke spaces and communities – namely, trans women.
Yes, the NYC Dyke March, like many other similar spaces, is "officially" open to all women – as their website reads, "biological or otherwise," because, you know, all those trans women out there are inorganic or mechanical or something. (Trans women are women, just as biological as any other women. The term "non-trans" is far more respectful and accurate than "biological.") But there's a big difference between talking the talk of including trans women, and walking the walk of truly making a community or space welcoming and inclusive of trans women. The former is easily about posturing and empty declarations; the latter is about changing personal attitudes and overcoming individual, collective, and institutional transphobia.
Some friends of mine have posted a petition to demonstrate community support of trans women that will be circulated at the Dyke March on Saturday. I encourage you all to read it and sign on if you're down with it. There's no automated way to sign online quite yet, but if you email me (see "Contact Me" on the sidebar) or leave your name and location in the comments, I'll be sure to pass it on to them.