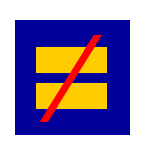 image from bloggy
This past weekend I drove in a friend's car. While loading up the trunk, I noticed that there was a very faded, barely discernable Human Rights Campaign sticker on the bumper. I was quite amused, especially since, given my knowledge of her general politics, she probably likes the HRC about as much as I do. Which is to say, not at all. For folks who aren't familiar with them, the HRC is, in a nutshell, an extremely mainstream, pandering, assimilationist LGB"T" organization that seems to work primarily for the rights of the most privileged, white picket fence (and just plain white) sort of queers. Well, not queers, seeing as "queer" is not their sort of word. They are decidedly lesbian, gay, bisexual I guess, and let's throw in transgendered so that it looks like we care. In fact, their chosen acronym on their website is GLBT, not even LGBT. Clearly, they're making no bones about who comes first in their hierarchy of gay importance! HRC does not serve the interests of me and many of my friends and many other folks who supposedly fall under their "GLBT" rubric. Last year at the big Pride march here in NYC, my friends and I hollered at them from the sidelines – "Racist, sexist, anti-trans, HRC, we're not your fans!" We also squirted them with water guns. It was fun times, but it's also unfortunate that one of the biggest, most established, resource-laden LGBT organizations has such skewed priorities.
They primarily focus on homo marriage to the exclusion of the many other issues that affect many queers on the daily. Now, I'm not an opponent of gay marriage, but I also don't think it's the most important issue facing the wider queer and trans communities, and I don't think it's going to be some amazing event makes life subtantially better and easier for most queers and trans folks. Of course, I think that the institution of marriage is pretty fucked and fairly discriminatory in terms of deciding which kinds of families are legitimate and deserve certain rights and protections and which are not, and that goes far beyond queer issues. I mean, if you're not a traditional nuclear heterosexual family unit, you're fairly screwed under this country's current laws. So gay marriage, while it will have important benefits for many people, will still primarily benefit those people who want to work within that sort of two-parent rubric. Any other less conventional family formations and you'll still be out of luck, and it seems rather unwise to push for something that will privilege and legitimize certain queer relationships and families while in turn continuing to delegitimize many others, queer and not queer.
So yes, anyhow, HRC pretty much sucks, and now they've evidenced it even more, as bloggy over at the Daily Gotham writes in an entry entitled "The Human Rights Campaign: dangerous to homos". Apparently, the HRC has decided to endorse Joe Lieberman's run for reelection as senator of Connecticut. I'm missing how he can be called pro-gay, given his stances and voting record on various issues. (Though, apparently, the "homosexuality is wrong" comment quoted by bloggy is in dispute, so I won't comment either way on that – his record says enough, I'd say.)
The worst of it, though, is that the very narrow, single-issue focus that the HRC seems to have has pushed them to support Lieberman because, in the weird parallel universe in which the HRC seems to operate, Lieberman is somehow "pro-gay." Does this perceived pro-gayness somehow counteract his continued pandering to the religious and war-mongering right? Does HRC really think that someone who doesn't miss a chance to snuggle up to the GOP, as bloggy so amusingly put it, is going to hesitate before completely selling out all queers, from the ones who HRC really looks out for to the ones it purports to represent but doesn't?
Who knows. Maybe the HRC just likes good ol' Joe because he's as much a panderer as they are – Liberman to the Right, the HRC to the straights.
*****
p.s. I know I'm a bit behind on responding to comments, but I'll be trying to catch up in the near future. Thanks to everyone who's read and commented. Also, just as a note, I got my first truly out of control comments, the kind where someone doesn't just diagree with you, but writes a lengthy rant that is largely composed of ad hominems. Apparently this person is really upset about my post on the West Point girlfriends website (which was really rather mild as far as my posts go, probably because the whole topic doesn't matter much to me and was merely a source of mild amusement and intrigue).
They also seem to think that I am either a hipster, or like hipsters at all, and plan to force my children to be vegans. Uh… sure. (Just for the record, I am an inveterate carnivore, though I do make attempts at obtaining meat from humane sources when I can.) Anyhow, getting comments like that for the first time, I feel like I've graduated to some new level in blogging! I mean, I clearly can't be doing my job well if people aren't calling me names.