UPDATE: The Tennessee Transgender Political Coalition has set up a fund for Duanna Johnson's funeral expenses that you can donate to via PayPal. This seems to be the most legitimate and secure way of donating. Any funds collected above the cost of the funeral will go to Johnson's family. Please donate if and what you can, and do it soon. A special request to everyone (like me) who donated to the No On Prop 8 campaign: try to match that donation, or even just half of it if you can't manage the whole thing right now. We can get this raised fast if we all commit to that.
UPDATE 2 (11/14/08 7:46 EST): TTPC reports that they have received $4745 in donations for Duanna's family. "The response has been tremendous. We have received around 165 donations from as far away as Japan. Duanna's family will be thrilled. Thank you world!" I echo their thanks to everyone who donated and helped spread the word today. I wish we hadn't had to raise this money in the first place, but I'm glad that we did. While no amount of money can undo the tragedy of their loss, at least we can help ease their financial burden and give them one less worry as they grieve. (end update)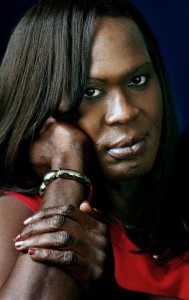 On February 12, 2008, Duanna Johnson was brutally beaten by a Memphis police officer after she refused to respond when the officer called her "he-she" and "faggot." That night, Johnson became yet another of the countless trans women of color to be targeted and brutalized by police in this country. Two officers were fired after the attack; neither was prosecuted.
Just to be trans, just to be a woman, just to be a person of color in this country is enough to drastically increase one's exposure to hatred and violence; when oppressions overlap, violence tends to multiply.
This past Sunday, Duanna Johnson was found murdered on the streets of Memphis. I didn't hear about this until today, when I read a post on my friend Dean's blog. When I read the awful news, I felt heartsick in a way that has become all too familiar and all too frequent.
After reading Dean's post today, I was surprised to find out that Johnson was murdered nearly three days ago already and that I hadn't heard about this until today. I know that I haven't been very good at keeping up with the news or the blogosphere these past few days. But I can't help but notice that despite this relative disconnection, I've read and heard no shortage of commentary, protest, and outrage about Proposition 8.
A Google News search for "Duanna Johnson" yields 50 results, many syndicated and therefore redundant. Much of the coverage is tainted by the transphobia and victim-blaming that tends to inflect media coverage of violence against trans women of color (like this Associated Press article). A search for "Proposition 8"? 18,085 results – 354.6 times more than for Duanna Johnson.
The skew in the blogosphere is less severe but still pronounced. A Google BlogSearch for Duanna Johnson: 2,300 results. For Prop 8? 240,839, or 100 times more.
Don't think I'm being deliberately unrealistic or dismissive here. I don't deny that the passage of Proposition 8 is harmful to the LGBT community and bears much anger, attention, and agitation. I understand the difference in magnitude of the number lives directly affected by the passage of Proposition 8 versus the number of lives directly affected by Duanna Johnson's murder. I get that.
Yet still, the disparity in attention is damn stark. And that skew isn't limited to this particular incident; it is a skew that is present in the collective coverage of and attention paid to all violence against trans women of color. And it is a skew that reflects what the GLb(t) mainstream chosen to prioritize with time, energy, and resources, and what it has chosen to address primarily with lip service and leftovers. An apt example of this: the Prop 8 op-ed written by Human Rights Campaign president Joe Solmonese communicates more anger, more commitment to an enduring fight for justice, more of a sense of giving a damn than his brief, comparatively tepid statement in HRC press release on Duanna Johnson's death.
There is a call out for people to donate money to help Johnson's mother pay her funeral expenses, which are right now expected to total $1195. Unfortunately, there is some confusion about how to make donations and concern about whether the funeral home is doing right by Mrs. Skinner. I advise folks who wish to donate to use caution; I hope that a clearer, more secure way of donating is established soon. UPDATE: It's been established.
But when it is possible to make donations safely, I hope that many people donate whatever they can. $1195 is a relatively small amount to raise. Given that the No On Prop 8 campaign was able to raise $37.6 million – or 31,464 times the cost of Duanna Johnson's funeral – raising this far smaller amount should be no problem for our community. Right?
Cross-posted at Feministe and Racialicious