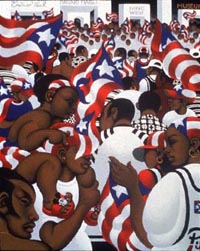 Puerto Rican Day Parade by Martin Wong
This weekend was a little overwhelming with the pride in my various identities. On Saturday, Brooklyn Pride exploded in all its queer glory. Me, my girlfriend, and Bessie the dog went out and were queer. This basically consisted of walking up and down Prospect Park West, getting about ten steps at a time before stopping to greet people we knew (Bessie got pet a lot), dodging the countless solicitations from Democrats and assorted mainstream queer organizations like HRC (we didn't dodge the coller organizations, though they were also far less in-your-face), and eating overpriced, greasy street fair food. Later that night, we attended the somewhat abbreviated night parade, which was a lot of fun and had much more of a neighborhood, chill feel than the craziness that is the big Pride march in Manhattan.
OMG, speaking of pride, I need to interrupt myself to CHEER via blog because Cynthia Nixon just won the Tony award for Best Performance by a Lead Actress in a Play. My girlfriend and I were hoping that she'd thank her girlfriend in her speech, which she did not, but she did something even better – she kissed her! On camera! Woohoo!
Today I found out that Cynthia Nixon and her partner were at Brooklyn Pride. And I missed them. This, my friends, is a tragedy indeed. I met her once; she actually knew my name and used it a few times over the course of said night. This tells me that maybe I could have said hi to her without seeming overly "Hi I'm a huge fan of yours and I'm going to bother you at this random event!" Maybe she would have even pet my dog. Le sigh.
Anyhow.
Today was the Puerto Rican Day Parade. An estimated three million people attended. I was not one of them. I had to speak on that panel (which I'll write more about tomorrow, hopefully); afterwards, me and a few of my friends tried to catch up to the parade, but we thought it was travelling south when it was actually going north, so we wound up quite far from the tail end of it. I could have hopped on the subway and gone uptown, but we were hungry, it was getting late, and the crowds seemed far too daunting. So I did not go. I didn't even get to watch it on TV, as I usually do.
On my train ride home, I saw tons of people coming back from the parade, entire families bedecked in various renditions of the Puerto Rican flag. A Mexicana friend of mine always says that we Boricuas love our bandera more than anything, and with all the flags I saw today, that seems quite true. It made me happy to see so many proud Boricuas all over the place, but sad that I'd missed all the festivities. I was, however, wearing my own Puerto Rican flag armband, have worn my Puerto Rico World Baseball Classic t-shirt all day yesterday and part of this afternoon, have my big flag flying outside my apartment window, and have had my ringtone set to "Que Bonita Bandera" all weekend. So I've celebrated in my own little way, but next year, I've got to find some other Boricuas to celebrate with.
As an aside – maybe only other Puerto Ricans will find this as amusing as me – today on the train I saw this guy wearing a t-shirt that said "Boricua" and featured a big cartoon coquí, standing upright in front of a flag, wearing shades, a PR flag do-rag, and a tank top that exposed its muscley, green, tattooed bicep. ¡Que loco!
P.S. I finally got around to responding to many comments that had been lingering for a few days. So, if you've written one recently, check back, I've probably responded.