Archive for January, 2006
FUCK.
Yeah, that pretty much sums it up.
Clearly I've been a bit out of the loop lately. That's what business travel, freelance work, and a few other projects and events will do to me. But it presents a good excuse to use this, which cracks me up:
courtesy Emilienne Ireland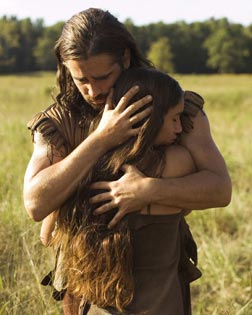 I'm really waiting for the Religious Right to flip out over the obvious immorality of this film – hello, pedophilia?
When white America comes out with a movie that prominently features Native people, you can't really expect much good to come of it, can you? So, when I saw the previews for Terrence Malick's The New World, I was appropriately dubious. Yet, I was also slightly intrigued, because even though I should know that the first line of this entry is absolutely true, the cinematography looked beautiful and interesting enough to make me wonder – maybe it's not so bad?
Well, I'm glad that my brief moment of naivete didn't drive me to go out and see the film (in fact, it didn't come close), because it appears that it's the racist, revisionist garbage that one would expect. Gabriel over at Modern Fabulousity offers a sharp and insightful take on the film.
Thinking about the film spurred me to learn a bit more about the history behind the incessantly sentimentalized story of Pocahantas, which brought me to the website of the Powhatan Renape Nation. They've posted a response to the Pocahantas myth as promoted by the Disney movie and countless other sources. I learned quite a few things from it – for instance, that her real name was not Pocahantas (a childhood nickname meaning "naughty one" or "spoiled girl") but Matoaka, and that she was only 11 when her supposed romantic interest, John Smith, arrived in her land. Additionally, the whole thing of her saving Smith's life was probably a total falsification. All of this being, of course, totally unsurprising, given the white man's insistance on twisting Native history beyond recognition and to their own racist advantage. From the piece by Chief Roy Crazy Horse: "Of all of Powhatan's children, only 'Pocahontas' is known, primarily because she became the hero of Euro-Americans as the "good Indian", one who saved the life of a white man."
…
Somewhat unrelated: upon finding the Modern Fabulousity blog in search of writings on this movie, I also found this amusing take on the "gay trend" in the Golden Globes:
Most Annoying Oscar Trend: The Year of the Gay. Expect to hear this repeated ad naseum, due to Brokeback, Transamerica, and Capote. But three films do not make a trend, people. You could just as easily call it the Year of the Country Folk (Brokeback, Walk The Line, A History of Violence and North Country), or the Year of the Effete Novelist (Capote, The Squid and the Whale), or, God forbid, the Year of the Overblown Literary Adaptation (Narnia, Constant Gardener, Pride and Prejudice, Memoirs of a Geisha, Charlie and the Chocolate Factory, Proof, Breakfast on Pluto, Brokeback, Munich). But I guess none of those have as much incendiary appeal as The Year The Queers Took Over The Planet And Held Your Children Hostage.
I'm reposting this here (from many sources) both because I think it's great and that many women of color should participate, and because I need to remind myself to write something for this, too. You know, in between doing the twenty-gazillion other things on my to do list… sheesh!
ANNOUNCING: WOMEN OF COLOR BLOG CARNIVAL
~~~a call out for submissions~~~
Because Women of Color recognize that real world structural inequalities such as poverty, violence, imprisonment, and community neglect, have restricted our access to the resources the internet has to offer our communities,
Because Women of Color recognize that computer literacy is a right that has long been denied to our communities,
Because the internet has been used as a tool to further racist, sexist, and anti-queer fantasies/representations of Women of Color,
Because Women of Color recognize that these racist, sexist, and anti-queer fantasies/representations have very real world consequences for our communities and us,
Because Women of Color demand that the resources the internet has to offer be available to our communities,
Because Women of Color demand that computer literacy be restructured as to include those of us who must learn the computer in restricted settings (libraries, prisons, institutions, etc)
Because Women of Color demand a powerful, healthy, intelligent and WHOLE representation of themselves on the internet,
the Radical Woman of Color Blog Carnival has been created!!
**Centering the voices, opinions, issues, interests, demands, problems, and solutions of women of color, this blog carnival will be used to connect the real world issues such as poverty, violence, imprisonment, and community neglect to the blogosphere.
**Publication date will be the first (1rst) of every month.
**The first publication will be put out at Jenn's blog; www.reappropriate.com
**TOPIC ONE:
What does the internet *mean* to a woman of color?
Although often touted as the "last frontier" and positioned as something which is essential to learn in the modern day world, the internet has often been used to further very scary and unrealistic resprentations and fantasies of women of color. Furthering this passive violence, it is often the sweat shop labor of women of color that creates computers to begin with.
At the same time, however, the interent can be and often is used as a tool to connect isolated young mothers to other mothers, survivors of sexual violence to advocacy groups, disabled women to resources and a whole generation of amazing teens to other teens. The blogosphere is also used specifically as a space to cover stories that mainstream press refuse to or is too scared to.
To harnass the good of the internet, it is essential for Women of Color to better define what the interent means to us, (the good and the bad) and then work together to figure out how we can use it for our communities purposes and needs.
As such, we will be accepting submissions which question, challenge, discuss, explore, and name what the internet has meant and what it *could mean* to women of color. Is it a site of sexualized violence? A site of sexualized freedom? An opportunity to make your voice heard where there was none before? A site of further marginilization and disappointment? Some examples of excellent critiques of the internet that might get your creative juices flowing:
Where Are My Asian Sisters? by Jenn
Why the Internet Hurts Women of Color by Nubian
But of course, these are just examples–creative writing, art, journal type entries, etc will all be accepted!
Send us your stories!!!
Because this is a Woman of Color Carnival for women of color and put together by women of color, this carnival will prioritize those submissions written by and that centralize women of color issues.
To nominate or submit posts, you may email them to Jenn at jenn@reappropriate.com.
And not surprisingly, we have the United States and the War on brown people, I mean Muslims, I mean Terror, to thank for it. As described in this press release, the Human Rights Watch has released its World Report 2006. It's rather grim.
New evidence demonstrated in 2005 that torture and mistreatment have been a deliberate part of the Bush administration's counterterrorism strategy, undermining the global defense of human rights…

U.S. partners such as Britain and Canada compounded the lack of human rights leadership by trying to undermine critical international protections. Britain sought to send suspects to governments likely to torture them based on meaningless assurances of good treatment. Canada sought to dilute a new treaty outlawing enforced disappearances. The European Union continued to subordinate human rights in its relationships with others deemed useful in fighting terrorism, such as Russia, China and Saudi Arabia.

Many countries – Uzbekistan, Russia and China among them – used the "war on terrorism" to attack their political opponents, branding them as "Islamic terrorists."
Not that I ever thought that any good has come from the "War on Terror," but it's striking and sickening to read about just how much damage it's done to human rights, both in the US and globally.
… or the big screen, as it were.
So, on tonight's Golden Globes, Brokeback Mountain won Best Drama, Best Screenplay, Best Director and Best Song, Felicity Huffman won Best Actress for Transamerica, and Phillip Seymour Hoffman won Best Actor for Capote. A strong year for queerness and, um, transness in the movies. Too bad none of the queer and trans characters in these films could actually be portrayed by, oh, I don't know, queer and trans people? Ah well, I suppose we can only ask for so much. (That's sarcasm there, folks.)
Of course, that's not to say I wasn't very happy about Brokeback Mountain winning.  Though I think my personal highlight of the night was Sandra Oh winning Best Supporting Actress in a Drama for Grey's Anatomy.  My girlfriend and I both cheered very enthusiastically when that happened.  We <3 Sandra Oh!
From the New York Times: the US government has barred Spain from selling military planes built with American technology to Venezuela, citing the "antidemocratic" nature of President Hugo Chávez's goverment and saying that the sale would "destabilize the region." What utter bullshit. Apparently, Spain's government disagrees with the US and regrets their decision, but will try to push forward with the deal (which will generate a whole helluva lot of money for Spain) with non-American technology.
From the statement of rejection from the US government:
Despite being democratically elected, the government of President Hugo Chávez has systematically undermined democratic institutions, pressured and harassed independent media and the political opposition, and grown progressively more autocratic and antidemocratic.
Hmm… does anyone else think that statement would make a whole lot more sense if we replaced "Hugo Chávez" with "George W. Bush?" Oh, except we'd have to also replace "democratically elected" with "undemocratically selected, both times." I mean, come on – does the government really not recognize the incredible hypocrisy of a statement like that?
This on the tails of another breaking story about Venezuela and the US: Rhode Island will join four other states in receiving discounted heating oil for low-income families in a deal financed by Venezuela's Citgo Petroleum Corp. It's interesting how the US goverment won't bar Venezuela's "antidemocratic" government from trying to take care of the poor US citizens who continue to be systemically neglected by their very own government at home.
Random rant for the morning:
Today while looking at Technorati, I saw that the most popular link of the day was to this story. It's about an elderly man in New Mexico who found a mouse in his house, took it outside, and threw it into a pile of burning leaves. The mouse, now on fire, ran back into his house and managed to set it on fire, destroying it and everything inside of it. Holy shit, right?!? Luckily, no one was injured.
Now, I understand linking to such a crazy story. But so many of the blogs I saw basically said, well, serves him right, he got what he deserved. What the fuck?!? Yeah, what he did was cruel, but what 81 year old man deserves to have his entire house and all of his possessions burnt down for killing a mouse? As if none of those people would kill a mouse if they found one in their house. Maybe they'd choose more "humane" methods of killing it, but come on – would they then deserve to stumble upon a gigantic sticky board and either starve to death or be yanked off, much of their hair, skin, and perhaps a few limbs coming off in the process?
Next time those people kill a roach or bug in their homes, I hope a huge shoe comes out of the sky and smashes their homes and everything in them.
So, we're a little bit into the new year now. The title of this post is a bit of a misnomer, as I've decided that this year I'm not going to make new year's resolutions. Instead, I'm going to have new year's notions – non-binding thoughts about what I'd like to do differently this year.
A few of those notions have to do with blogging. Since starting this blog I've been modestly but steadily growing my readership and getting more links, which is great – thanks, y'all, for reading! But I know I need to keep putting in in order to keep getting out. So, my blogging new year's notions: keep blogging, frequently and regularly, about a good range of topics; keep up with responding to comments and adding to my blogroll; and engage with folks on their blogs, instead of just reading, thinking "hey, that's really good stuff," and not giving any feedback. Hell, I might even get my personal blog back up and running at surblimity.net. We shall see.
So, in the spirit of my new year's blogging notions, two quick things that I've been meaning to blog for days:
La Mala pointed me in the direction of this article on Indymedia about the plans for a federally-mandated plebecite on Puerto Rico's political status. I really appreciated the entire article, but one thing that piqued my own personal interest: it tied the struggle for Puerto Rican self-determination to the similar struggle that has been going on for centuries in Ireland. It also told me something that I never knew – that Pedro Albizu Campos, arguably the most important figure in Puerto Rican nationalism, supported and was actually involved in Irish republicanism. As a bit of a gaelophile who is especially interested in and inspired by Irish successes and continued struggle against British imperialism, this was a pretty neat thing to learn.
And one last quickie: Pat Robertson recently aimed his rather loose cannon on Ariel Sharon, declaring that his recent ailments are the direct result of his contribution to the "division of God's land" or some shite like that. Interestingly enough, the Bush administration was quick to condemn Robertson's comments as "wholly inappropriate and offensive." Oddly enough, I can't seem to recall a peep coming from the administration when Robertson decided to endorse the assassination of another foreign leader, President Hugo Chavez. Funny, that.
---
---