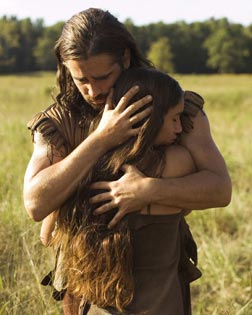 I'm really waiting for the Religious Right to flip out over the obvious immorality of this film – hello, pedophilia?
When white America comes out with a movie that prominently features Native people, you can't really expect much good to come of it, can you? So, when I saw the previews for Terrence Malick's The New World, I was appropriately dubious. Yet, I was also slightly intrigued, because even though I should know that the first line of this entry is absolutely true, the cinematography looked beautiful and interesting enough to make me wonder – maybe it's not so bad?
Well, I'm glad that my brief moment of naivete didn't drive me to go out and see the film (in fact, it didn't come close), because it appears that it's the racist, revisionist garbage that one would expect. Gabriel over at Modern Fabulousity offers a sharp and insightful take on the film.
Thinking about the film spurred me to learn a bit more about the history behind the incessantly sentimentalized story of Pocahantas, which brought me to the website of the Powhatan Renape Nation. They've posted a response to the Pocahantas myth as promoted by the Disney movie and countless other sources. I learned quite a few things from it – for instance, that her real name was not Pocahantas (a childhood nickname meaning "naughty one" or "spoiled girl") but Matoaka, and that she was only 11 when her supposed romantic interest, John Smith, arrived in her land. Additionally, the whole thing of her saving Smith's life was probably a total falsification. All of this being, of course, totally unsurprising, given the white man's insistance on twisting Native history beyond recognition and to their own racist advantage. From the piece by Chief Roy Crazy Horse: "Of all of Powhatan's children, only 'Pocahontas' is known, primarily because she became the hero of Euro-Americans as the "good Indian", one who saved the life of a white man."
…
Somewhat unrelated: upon finding the Modern Fabulousity blog in search of writings on this movie, I also found this amusing take on the "gay trend" in the Golden Globes:
Most Annoying Oscar Trend: The Year of the Gay. Expect to hear this repeated ad naseum, due to Brokeback, Transamerica, and Capote. But three films do not make a trend, people. You could just as easily call it the Year of the Country Folk (Brokeback, Walk The Line, A History of Violence and North Country), or the Year of the Effete Novelist (Capote, The Squid and the Whale), or, God forbid, the Year of the Overblown Literary Adaptation (Narnia, Constant Gardener, Pride and Prejudice, Memoirs of a Geisha, Charlie and the Chocolate Factory, Proof, Breakfast on Pluto, Brokeback, Munich). But I guess none of those have as much incendiary appeal as The Year The Queers Took Over The Planet And Held Your Children Hostage.