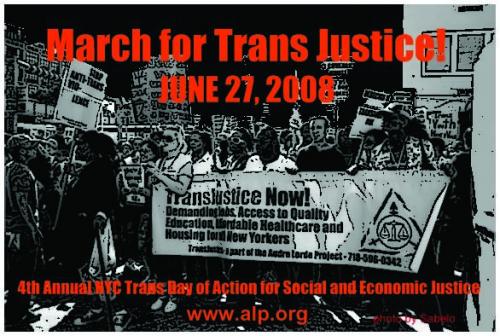 When: Friday, June 27, 2008 – 3:00pm
Where: Starting rally at City Hall Park, Manhattan, NY
Tomorrow is the fourth annual Trans Day of Action for Social and Economic Justice, organized by the TransJustice working group of the Audre Lorde Project. It's the fourth year that I'll be going and every year has been exciting, inspirational, and powerful. (You can read about the 2006 march here.) The Trans Day of Action is my favorite NYC Pride rally/march type event, because it's both a powerful political demonstration and a strong celebration of our communities. It's way more inclusive than the Dyke March in both the people it gathers together and the issues it addresses, and it's obviously way more political than the very commercial and more mainstream big Pride march on Sunday. From the ALP website:
We call on our Trans and Gender Non-Conforming (TGNC) community and on all of our allies from many movements to join us for the 4th Annual Trans Day of Action for Social and Economic Justice. We as TGNC People of Color (POC) recognize the importance of working together alongside other movements to change the world we want to see. We live in a time when people of color, immigrants and poor people are disproportionately underserved, face higher levels of discrimination, heightened surveillance and experience increased violence at the hands of the state. It is critical that we unite and work together towards dismantling the transphobia, racism, classism, sexism, ageism, ableism, homophobia and xenophobia that permeates throughout our movements for social justice. Let's come together to let the world know that TGNC rights will not be undermined and together we will not be silenced!
I strongly encourage folks in the NYC area to come out and march with us. It's open to all allies, so anyone can (and should) come.